Metro Insider
Digital Marketing Blog by the Metro Marketeers
Marketing Guide for November
Are you ready for Small Business Saturday?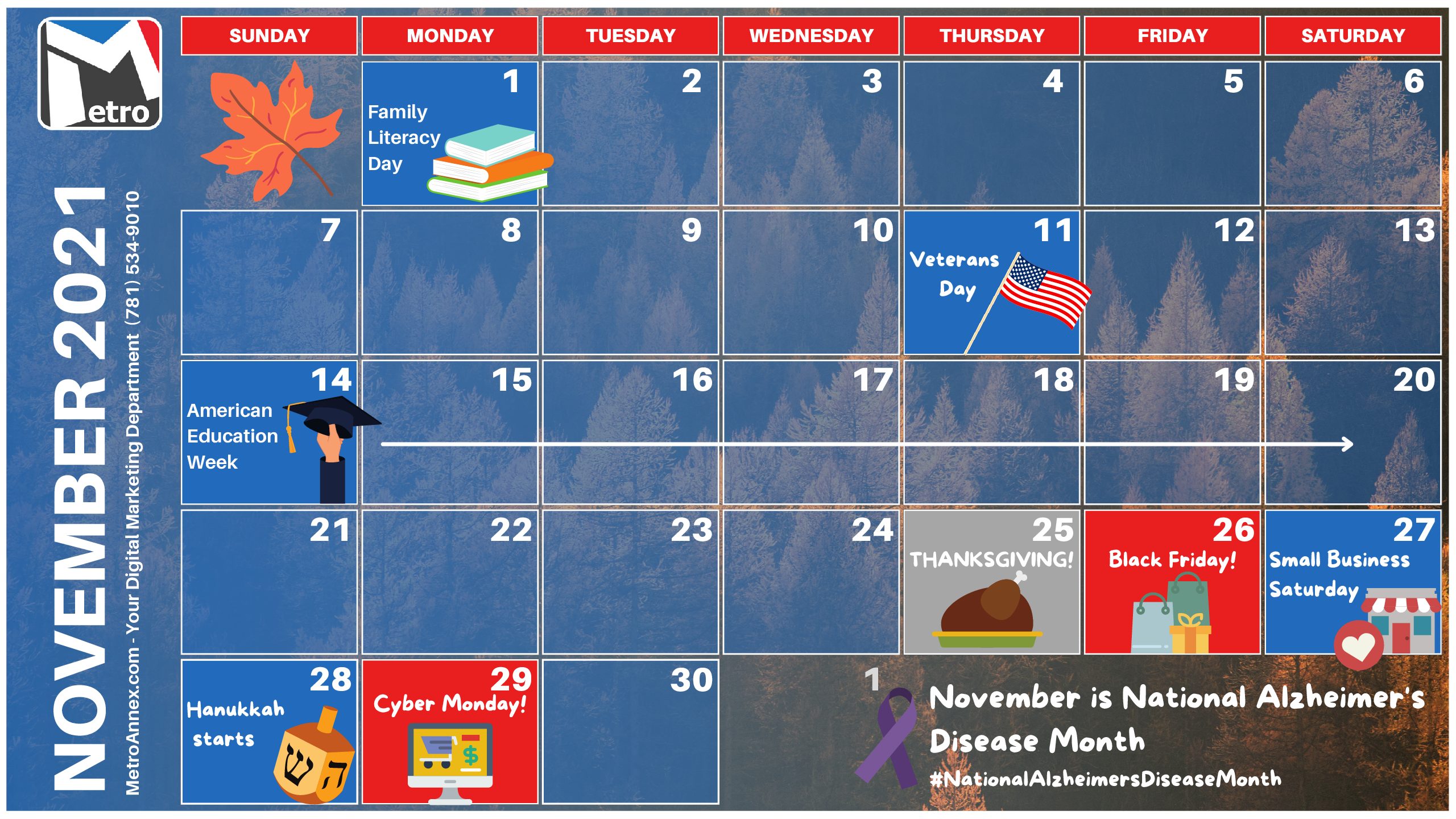 Marketing Must: Small Business Saturday
Sandwiched between Black Friday and Cyber Monday is Small Business Saturday that gives the local retailer their day in the sun beside the big box stores and major e-commerce sellers. This year, Small Business Saturday is on November 27. 
Did you know that 112 million people went out to shop small on Small Business Saturday 2016, a 13% increase from 2015? (Grasshopper.com)
Some tips to prepare for Small Business Saturday:
Promote early through email, social media, and advertising

 

Create and promote a Landing Page just for this event

 

Optimize your SEO

 
We can optimize your website and create your email and social media promotions. Call us today for more information!  
November is National Alzheimer's Disease Month
There is no cure for this disease that affects nearly 5.4 million Americans, and the number is growing.
While the entire month is dedicated to raising awareness about the disease, it also focuses on increasing support for caregivers and sharing available resources.
Hashtags to use: #NationalAlzheimersDiseaseMonth #AlzheimersAwareness
American Education Week Nov. 14th-20th
The week promotes collaboration between parents and educators. Across the country, schools host events under a theme proposed by the National Education Association (NEA). Within those themes, educators provide a look at their practices, technology, and goals.
Hashtag to use: #AmericanEducationWeek 
Thanksgiving Day
In 1621, the Plymouth colonists and Wampanoag Indians shared an autumn harvest feast that is acknowledged today as one of the first Thanksgiving celebrations in the colonies.
Hashtag to use: #Thanksgiving #ThanksgivingDay
Download Our Social Media Checklist
Our Social Media Checklist is a clear, step-by-step process for creating professional, informative, enticing social posts. It's also full of tips and other resources!
Mathew Phillips
Digital Marketing Specialist
Mathew Phillips is an expert in digital marketing and lead generation services. Mathew has a passion for all things digital marketing from website design and search engine optimization to digital advertising, email marketing and social media.