Metro Insider
Digital Marketing Blog by the Metro Marketeers
Marketing Guide for October
Are your business listings accurate? Inconsistent business listings can cost you money.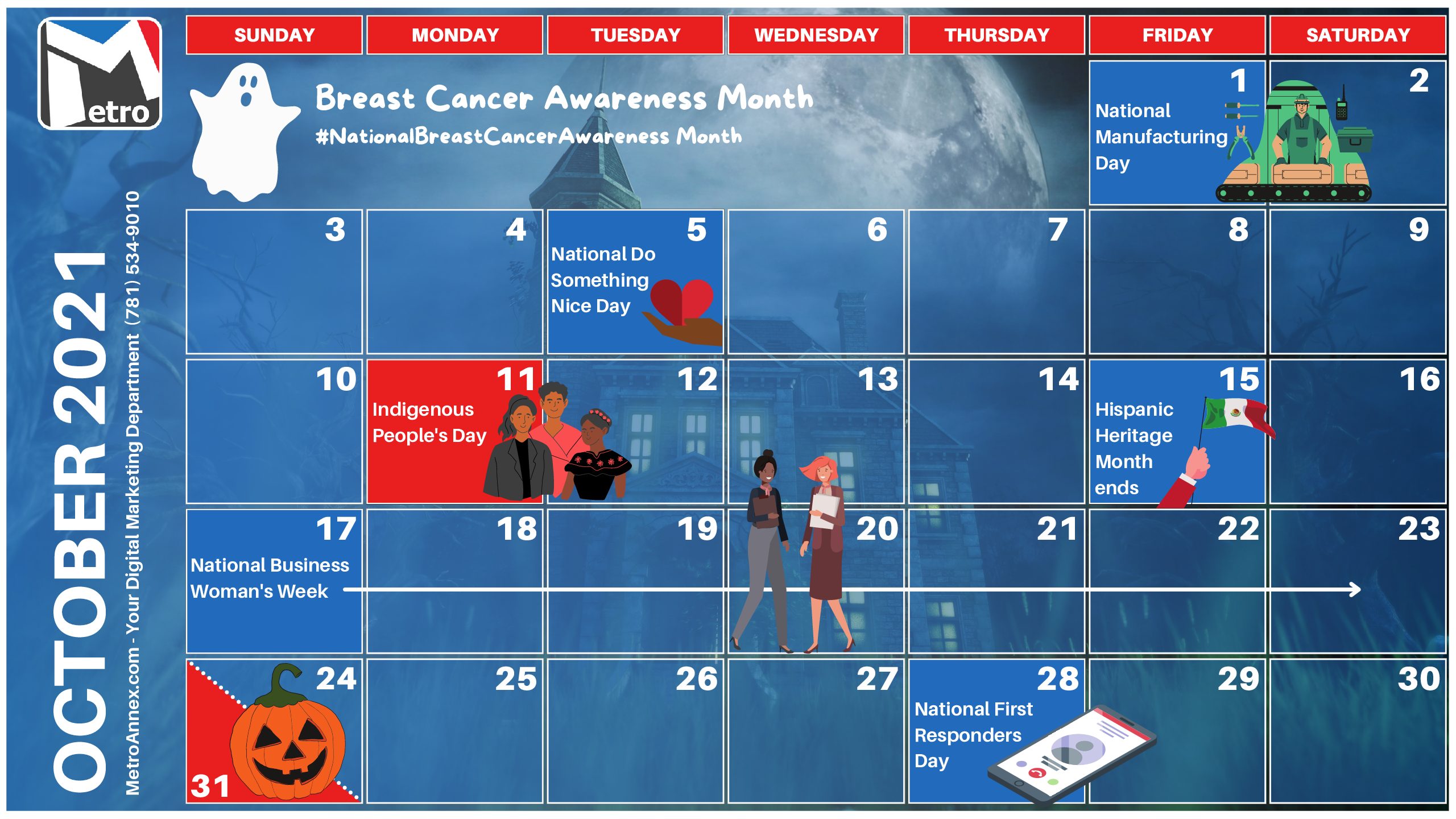 Marketing Must: Business Listing Accuracy
Errors in your business listing – your company's name, address, phone number and web address – on various online directories or web pages can lower your rankings in search results and make it difficult for customers to find you. As more and more consumers search the Internet for products and services and the local businesses that provide them, the importance of having consistency in your business listings and citations has never been more crucial. 
Did you know that 73% of consumers lose trust in a business when their listings are incorrect? (Search Engine Land) 
Make sure your business listings include: 
Company description

 

Link to your website

 

Accurate address
Accurate contact info.
Social profiles
Let us check your business listings! We can analyze your listings on all directories and make needed corrections. 
October is National Breast Cancer Awareness Month
You will be seeing a lot of pink this month. That can only mean one thing: October is upon us, and everyone is preparing for National Breast Cancer Awareness Month. It's the annual campaign to increase awareness of the disease. About 1 in 8 U.S. women, and 1 in 1000 U.S. men will develop invasive breast cancer over the course of their lifetime and being proactive in this fight is crucial. Detected early, Stage 1 breast cancer patients have a nearly 100% five-year survival rate. 
Hashtags to use: #NationalBreastCancerAwareness #BreastCancerAwareness
National Business Women's Week Oct. 17th-23rd
Every year, women in the workforce take on stronger, more empowering roles. They run their own businesses, take charge of the boardroom, and build upon last year's successes. At one time, very few women even had a voice. Today, women-owned businesses generate nearly $1.8 trillion in sales. Of privately-owned companies, women own 40 percent of them and employ almost 9 million people. Their contributions to the economy cannot go unnoticed. 
Hashtag to use: NationalBuinessWomensWeek #BusinessWomen 
Halloween Day
Halloween brings out the ghouls and goblins, creatures, and strange folk. They come creeping about the neighborhood seeking favors over trickery. People of all ages look forward to Halloween traditions. The observance dates back to an ancient pagan harvest festival marking the end of summer and the beckoning of winter.  
Hashtag to use: #HappyHalloween #Halloween
Download Our Social Media Checklist
Our Social Media Checklist is a clear, step-by-step process for creating professional, informative, enticing social posts. It's also full of tips and other resources!
Mathew Phillips
Digital Marketing Specialist
Mathew Phillips is an expert in digital marketing and lead generation services. Mathew has a passion for all things digital marketing from website design and search engine optimization to digital advertising, email marketing and social media.