Metro Insider
Digital Marketing Blog by the Metro Marketeers
Marketing Your Business in 2022
As another year comes to a close, now is the time to get your business ready to start a new one.
Is Your Business Ready for the new year?
As another year comes to a close, now is the time to get your business ready to start a new one. A major part of planning for the upcoming year should be a marketing plan for your business. Marketing strategies have changed recently, and you need to be on top of them. Here is a guide for marketing your business in 2022.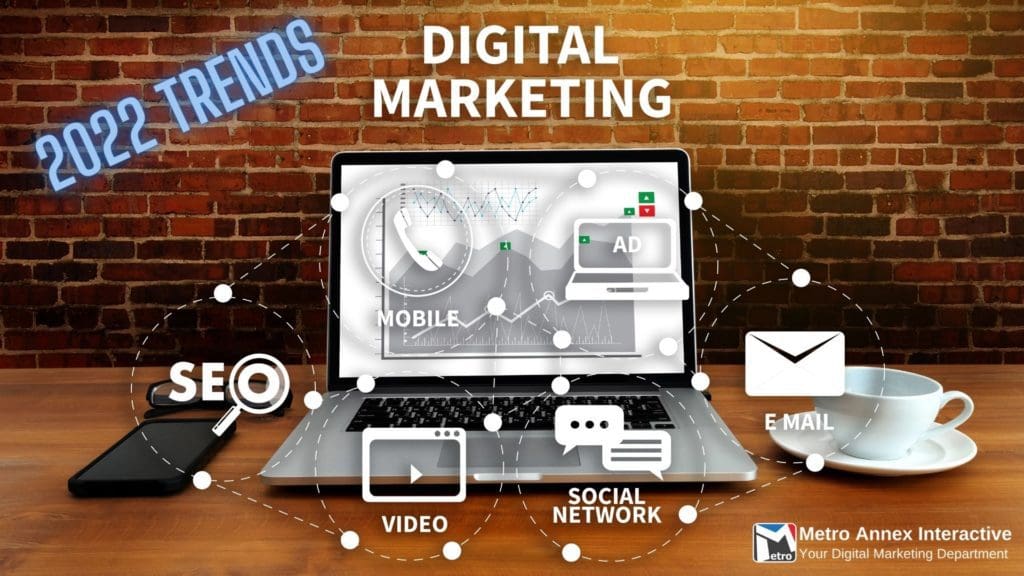 Looking Back Before Going Forward
Before making plans for 2022, you should review your business strategies, namely your marketing campaign, for the past year. What Worked? What didn't? Where can you make adjustments? The answers to these questions are pivotal in developing a marketing plan for the new year.
It's all about Digital Marketing
No doubt these last two years have been difficult for most businesses. Many have been forced to change their operations to adapt to a different business world. We have seen a dramatic spike in not only online commerce but also digital marketing.
Inc.com reports there has been a huge shift toward digital marketing, a trend that will likely continue for the foreseeable future. A digital marketing campaign includes:
Facebook advertising – Unlike GoogleAds, Facebook ads are not targeted and reach those at the top of the sales funnel. However, you will reach a larger, more diverse audience with Facebook. Also, Facebook offers various ad formats such as videos, carousel, stories, and messenger. Hubspot reports that Facebook ad's pay-per-click campaigns typically result in higher ROI (Rate of Investment) than Google.
Marketing Trends for 2022
As we mentioned, digital marketing is the future of promoting businesses. Business2Community has a rundown of marketing trends for 2022.
Mobile-Friendly Marketing – Since more people than ever are now using smartphones and tablets instead of desktops, you need to make your business marketing campaigns mobile-friendly so that your content and website will rank higher in search results.
In 2022 and moving forward, you need your website and/or app to be responsive and easily accessed on any device being used by customers. You can simply optimize your website's design, so it automatically adapts to the smaller screens on mobile devices. Also, you can create a separate app so it can be downloaded on a smartphone or tablet.
Consider utilizing Accelerated Mobile Pages (AMP) that quickly loads content on tablets and smartphones. As Moz explains, it's stripped down HTML page designed to be "super lightweight" and heavily cached so it loads faster than tradition HTML pages.
Mobile-first marketing will be one of the most important trends in 2022.
SEO – Google changed its SEO algorithm this year. Business2Business calls it "revolutionary" since business owners and marketers now have the power of SEO in their own hands. With this new ranking method, it's more important than ever to create content that is relevant to what customers are looking for when searching for particular services or products.
WhatsApp – This new, free, messaging app, owned by Facebook, was designed with small businesses in mind to help connect with customers, according to Hootsuite. It uses your smartphone's internet connection to communicate with other WhatsApp users. You can call and video chat, text, share documents and locations.
Digital Marketing Automation – AI (Artificial Intelligence) is leading the way as a revolutionary tool for marketing. It automates basic tasks like reporting on website traffic. AI can also recommend keywords to optimize your business's organic search ranking or even predict what customers are likely to buy in the future based on their past purchases and browsing history.
Also, many businesses have starting using chatbots to help automate customer service by handling inquiries on social media channels and email with little or no human involvement. Customers find it a personalized and enjoyable experience.
Multichannel Marketing – The days of just relying on a website to draw customers is over. Connecting with customers today means using multiple channels.
Of course, your website is the hub of any marketing campaign. But just like a machine, a marketing campaign needs other parts to run efficiently. In the case of digital marketing, in addition to a website, you also need a blog, social media, and email – core multichannel marketing.
Using multiple channels of interaction allows you to create content for each platform, a unified approach to reach your audience in different ways while maintaining your brand voice.
Related: Inbound Marketing Strategies
Virtual Events – "Zoom" became a household word in the past two years when video conferencing replaced in-person meetings and events during the Covid-19 shutdown. Businesses began offering webinars providing information about their products and services. Webinars can be offered live so viewers may interact, or they can be recorded for on-demand viewing.
Virtual events that many thought were going to be temporary are likely here to stay. According to a study, 52% of companies reported the same or greater number of participants for virtual events than for live events.
The Rise of Tik Tok, Pinterest, and Instagram – In the past year, Tik Tok has come on strong as a social media choice for some businesses. This platform allows you to create short, flashy videos where viewers can interact. Instagram has also become a popular marketing tool – its use by B2B marketers doubling from 30% to 60% in the past year alone. Meanwhile, Pinterest saw a 150% jump since 2016 by customers searching for products on the platform.
The End of Google Third-Party Cookies – Google will be ending its third-party cookies in 2023 as a result of consumer privacy complaints. These are used to show what websites you visited to generate ads of the products/services you viewed when you search the web.
This means that marketers will have to wean from the third-party cookie strategy. Interactive content and CRMs (Consumer Relationship Management) will now become more important to gather visitor information as the third-party cookies crumble away. You can use Google's Privacy Sandbox or FLoC (Federated Learning of Cohorts) to target consumers without intruding on user privacy.
Let Us Market Your Business in 2022
As you can see, digital marketing is complex with its many components and strategies. You need an expert to put all the pieces together to make it work. Concentrate on running your business and leave the marketing to us! Call us today for a free consultation! ​Schedule a FREE Consultation to learn more. 
Mathew Phillips
Digital Marketing Specialist
Mathew Phillips is an expert in digital marketing and lead generation services. Mathew has a passion for all things digital marketing from website design and search engine optimization to digital advertising, email marketing and social media.