Metro Insider
Digital Marketing Blog by the Metro Marketeers
B2B Marketing Strategies
For any business to be successful, B2B marketing strategies are vital.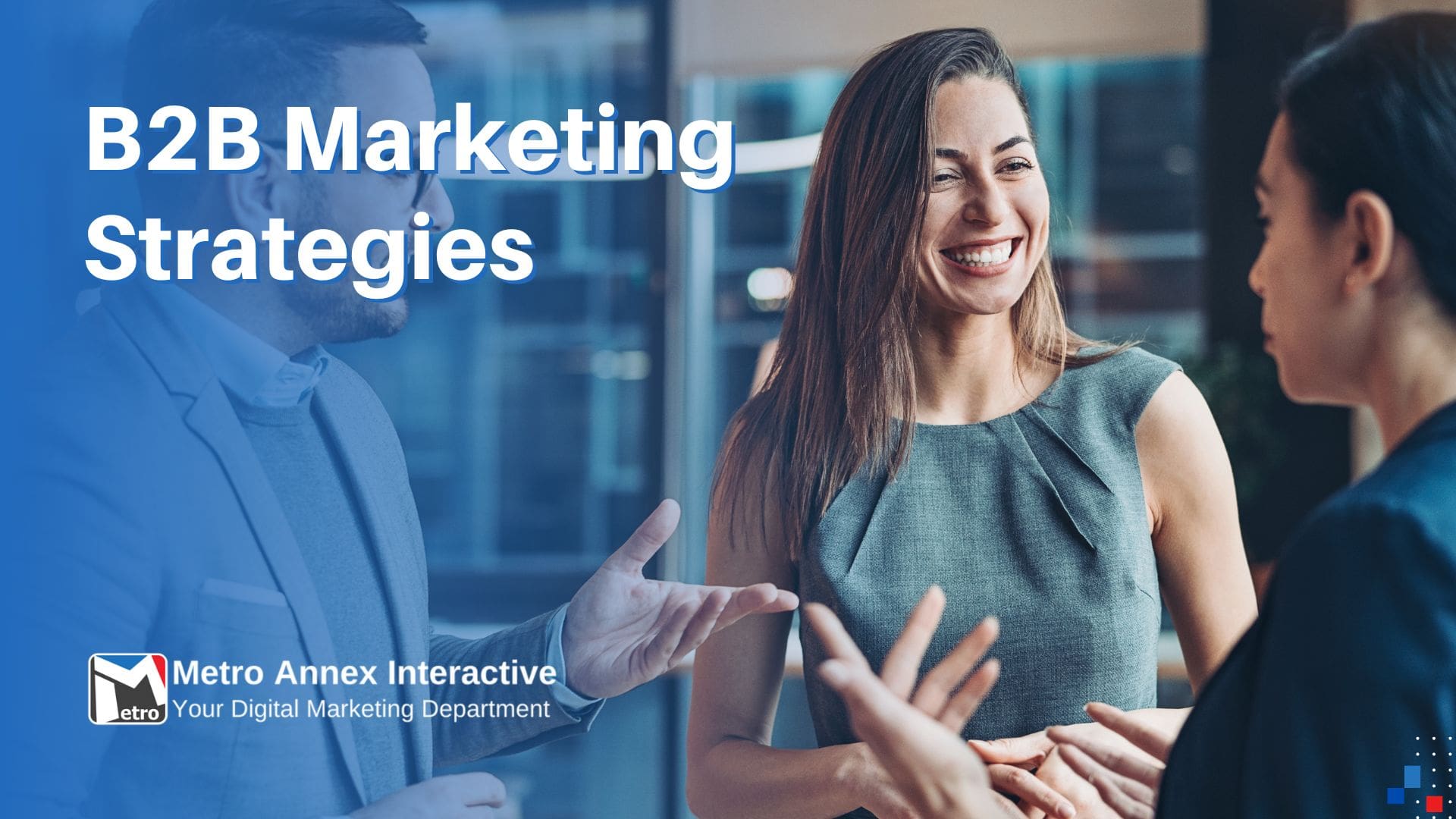 For any business to be successful, B2B marketing strategies are vital. B2B or "business-to-business" marketing, is a specialized approach where companies market their products and services to other businesses as opposed to B2C, or "business-to-consumer" selling directly to individual consumers.
What is a B2B Marketing Strategy?
Business-to-business (B2B) marketing refers to the promotional tactics that companies and organizations use to reach and engage B2B customers during the buyer's journey.
B2B marketing is often different from B2C marketing as B2B companies typically have a longer sales cycle, larger average transaction sizes, and more complex purchasing decisions than B2C companies.
Related Article: Why Your Business Needs a Marketing Funnel
The B2B Focus
The most effective B2B marketing strategy focuses on understanding customer pain points during the buying process and positioning the company's solutions as the best way to address them.
B2B marketers must create content that is tailored to their specific target audiences by showcasing how their solutions can help in ways that customers care about.
Marketers should focus on creating effective campaigns that meet their customers' needs and help them understand how their products or services could benefit them.
With the right approach, B2B companies can have success in their marketing efforts in reaching new audiences and increasing sales.
B2B Marketers must:
Identify their target customers' needs
Develop relationships with potential consumers
Persuade decision-makers
Provide value throughout the customer journey
Following these best practices can help B2B companies succeed in marketing to their business buyers.
Staying on Top of Trends
You need to stay up-to-date on industry trends and adjust strategies according to the changing needs of your customers. B2B companies should also focus on measuring and optimizing tactics to better understand what's working and where improvement is needed.
How to Create a B2B Marketing Strategy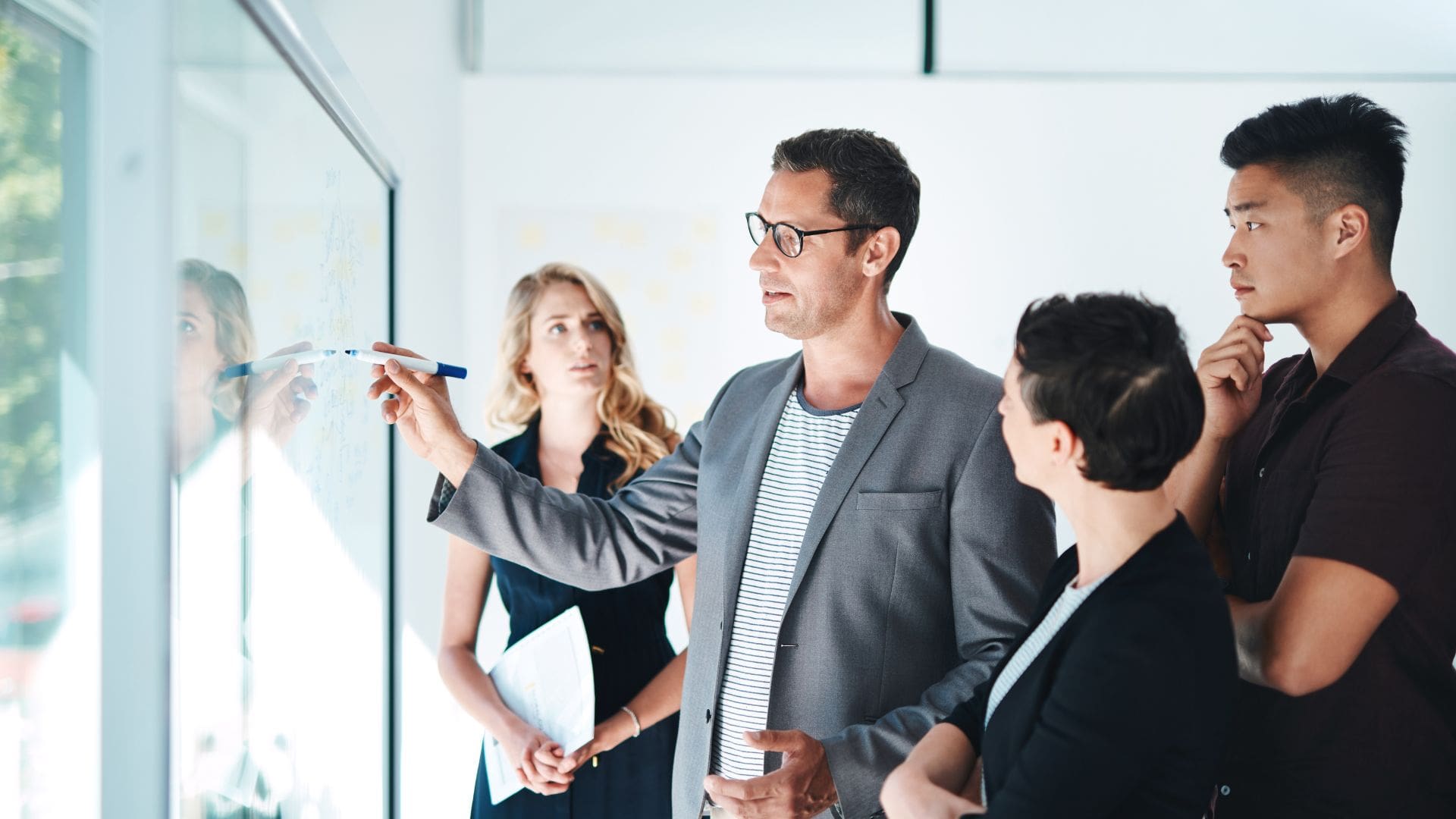 By putting together an effective marketing strategy, B2B companies can reach their target audiences more effectively, generate leads, and develop lasting relationships with their customers.
B2B marketers must leverage a variety of marketing channels, such as social media networks, email marketing, and search engine optimization (SEO).
Additionally, B2B companies need to find ways to build relationships with potential buyers throughout the sales process by developing various marketing tasks. This could include offering educational materials like whitepapers or webinars as well as creating personalized experiences with potential customers when they visit the company website.
Here are some of the top strategies for B2B businesses:
Optimized Website – Having your business's website optimized for SEO is critical so it will rank high in search engine results pages.
Content Marketing – B2B companies can leverage their marketing content to generate qualified leads, build relationships with their customers, and strengthen brand recognition. By creating engaging and educational content such as webinars, blog posts, white papers, or case studies, you can show your target audience what your business has to offer them.
Social Media Engagement – You should not ignore the power of social media marketing in connecting with prospective buyers. Leveraging social media channels such as Facebook, LinkedIn, and other social media networks allows B2B companies to interact with their target audience on a more personal level while making connections that could lead to future sales opportunities. Email marketing can also be utilized for lead generation and reconnecting with customers.
Inbound Marketing – B2B marketers should focus on providing valuable content that attracts website visitors. This includes optimizing the website for search engines, creating relevant content that answers the questions of potential clients, and running targeted campaigns such as email or pay-per-click (PPC) advertising.
Networking Events – Consider attending networking events in your industry and local business community. These events are an effective way to meet potential clients face-to-face, build relationships with them, and showcase your products or services.
Referral Marketing – You can generate more leads by encouraging existing customers to refer friends and colleagues who may benefit from your company's offerings. You should also consider influencer marketing – reaching out to influencers within your industry and asking them to share information about your business with their followers.
Account-Based Marketing – Businesses should use account-based marketing (ABM) strategies to target and nurture high-value accounts. B2B companies can use ABM tactics such as personalized content and targeted outreach campaigns to build relationships with leads who have the highest likelihood of becoming loyal customers.
Digital Advertising – Marketers should consider digital paid advertising platforms such as Google Ads, LinkedIn Ads, Bing Ads, or Facebook Ads to reach out to leads online. B2B companies can also create paid ads tailored for specific audiences that are likely to be interested in their products or services to spread your marketing messages.
Video Marketing – B2B companies can use video content such as explainer videos, product demos, or customer testimonials to target buyers. Video marketing allows B2B marketers to showcase their company's offerings in a more engaging way that will capture the attention of viewers.
By utilizing these marketing channels, B2B companies can effectively boost lead generation, increase brand awareness and brand loyalty, follow the buyer journey, reach out to potential customers, build relationships with them, and generate qualified leads.
Related Article: Inbound Marketing Strategies
How a B2B Marketing Strategy Works
A B2B marketing strategy can be complex, but they don't have to be intimidating. B2B marketing is all about nurturing leads and building relationships. It involves understanding the needs of your target customers and providing them with solutions that are tailored to those needs.
To do this successfully, B2B marketers must take a comprehensive approach that focuses on the customer journey from start to finish.
Here's how a marketing strategy works:
1. Understand Your Audience – The first step in creating an effective strategy is to understand the marketing funnel – your buyer's journey – and who you are targeting, and create buyer personas for each segment. You should identify their challenges, pain points, goals, and objectives so that you can better target them with relevant messaging and content.
2. Set Objectives and Goals – Once you understand your audience, it's time to set objectives and goals for what you want to achieve with B2B marketing. This will help guide the rest of your B2B strategy and ensure that all activities are aligned with achieving those objectives.
3. Identify Channels – B2B marketers have a variety of channels at their disposal for connecting with potential business customers. You should identify which ones make the most sense for your B2B strategy based on the audience, objectives, and goals that you established in step two.
4. Create Targeted Marketing Content – Marketers must create targeted content aimed at each stage of the customer journey, from awareness to consideration to purchase. Content marketing should offer valuable information and help build trust to nurture leads.
5. Measure, Monitor, and Optimize – You must measure results and monitor the performance of your B2B marketing strategies to make the necessary adjustments for optimization. This includes tracking such customer data as website traffic, leads generated, and conversions from each channel.
By following these steps, your team can create an effective B2B strategy that will help them reach their desired results. With a well-thought-out B2B marketing strategy in place, you can maximize your return on investment and achieve long-term success.
Related Article: Remarketing Your Potential and Existing Customers
What is a Target Audience?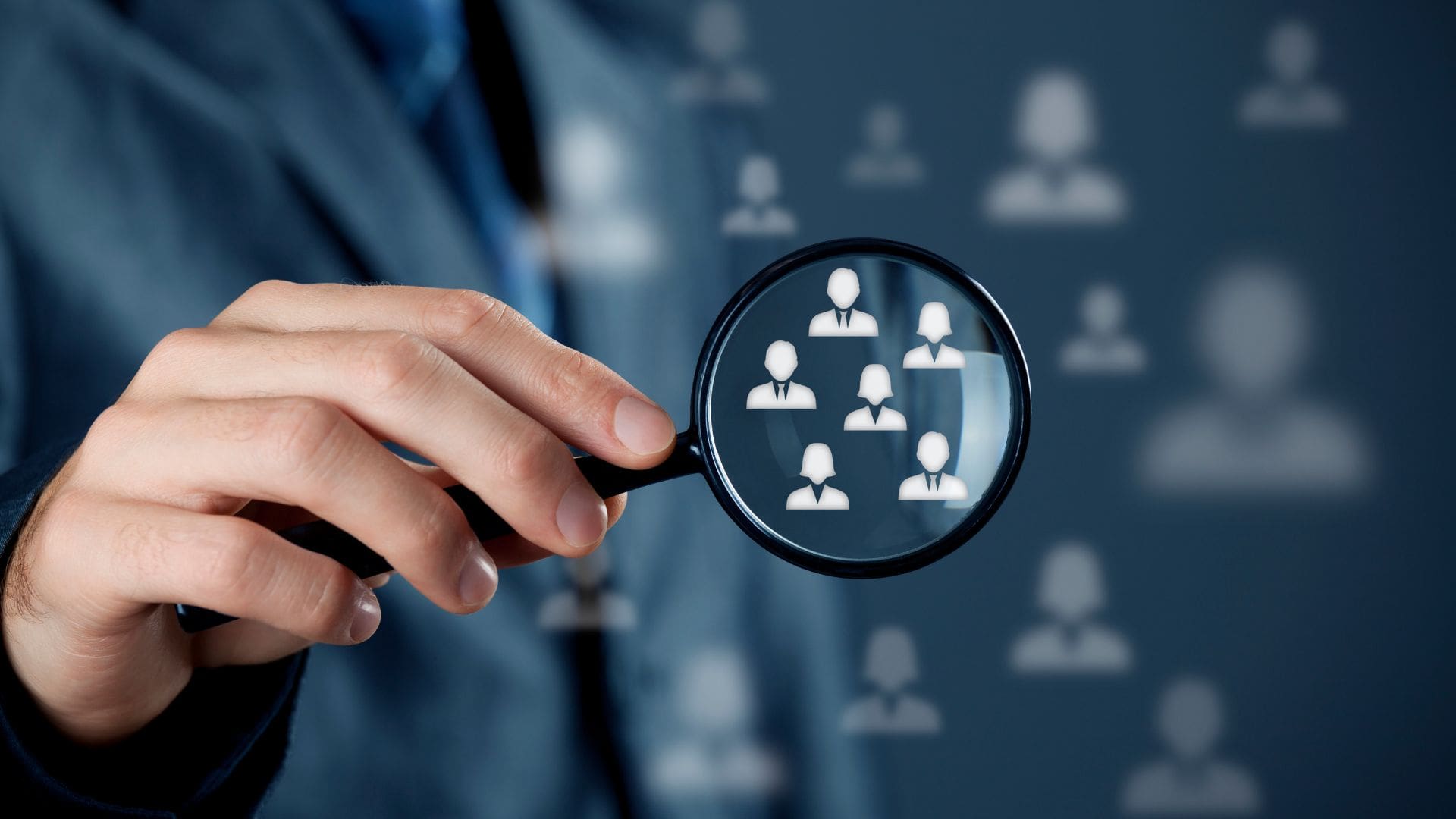 Whether your business has a niche or broad offerings, you need to understand the marketing process to zero in on those you want to sell to. From an optimized website to content marketing and paid search, your message must reach specific leads.
How Do You Find Your Target Audience?
There's an old saying, you can't please everyone. The same goes for marketing. Your marketing efforts must target specific customers that would be interested in your product or service.
Some tips include:
Keep up on industry trends
Check what your competitors are doing
Create a customer persona
Determine who your customer is not
Use your campaign data to analyze what your customer is specifically looking for
Related Article: How Businesses Can Use a Customer Avatar
How Will My Business Benefit from B2B Marketing?
B2B marketing offers many advantages; from increased customer loyalty and improved sales growth to cost savings on advertising and greater brand recognition.
Here are just a few of the benefits your business can enjoy when you incorporate B2B marketing:
Developing Long-Term Relationships: B2B relationships between businesses tend to last longer than those with consumers, allowing for better communication and collaboration over time. This enables more creative solutions that meet the needs of both parties while fostering loyalty and trust.
Increased Efficiency: Your marketing efforts can streamline your sales process, leading to greater efficiency for both you and your customers. B2B relationships are often more cost-effective because they build on existing networks of contacts and reduce advertising costs.
Improved Brand Recognition: B2B marketing helps increase brand recognition by introducing potential customers to your business who would otherwise never know about it. B2B platforms allow you to reach out directly to other businesses, so you don't have to rely solely on word of mouth or traditional advertising methods like TV commercials or print ads. You can also take advantage of industry events, conferences, and trade shows to meet new buyers in person.
Faster Sales Cycles: Your marketing efforts can speed up the sales cycle since there's less of a need to do extensive market research or study consumer demographics. B2B relationships also tend to be more streamlined, so there are fewer steps required for customers to purchase from you.
B2B company examples
Companies like Amazon Business, Oracle, and Salesforce have all successfully leveraged B2B marketing tactics to scale their operations and gain market share.
Amazon Business provides a great example of how B2B companies use data-driven insights to target customers with personalized products and services. By leveraging analytics, the company has been able to create better customer experiences that meet the specific needs of B2B buyers.
Similarly, Oracle has used B2B marketing techniques to develop innovative solutions for its enterprise customers such as cloud computing and machine learning platforms.
Lastly, Salesforce has also had success with B2B marketing by offering a host of integrated CRM solutions that cater to businesses of all sizes.
Staying Ahead of the Game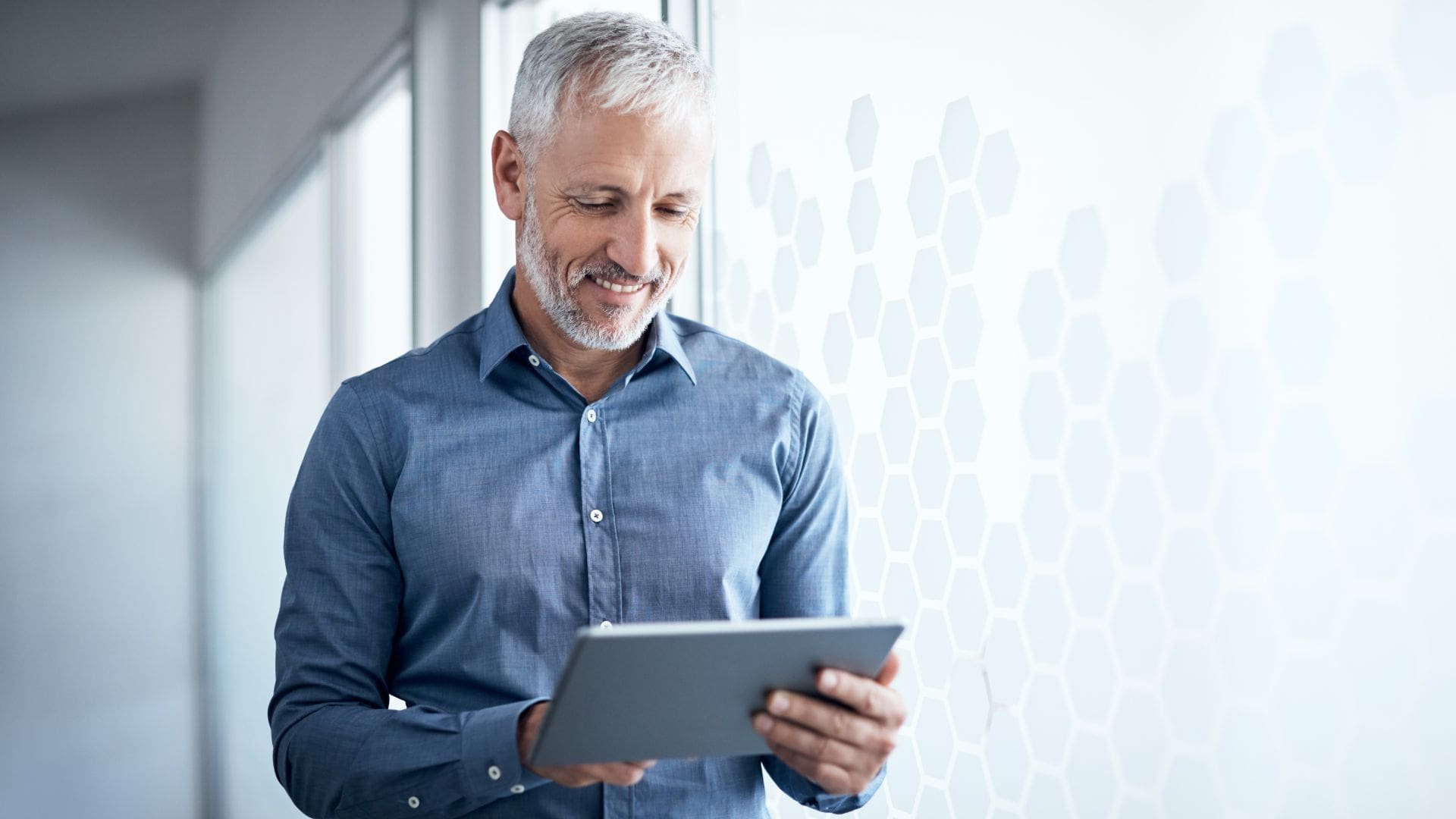 To stay ahead of the competition, marketers must also be aware of trends in the B2B market. B2B buyers are increasingly using digital channels such as social media, search engines, and mobile devices to research and purchase products.
Additionally, B2B companies should also leverage data-driven insights and marketing automation tools to optimize their strategy.
By leveraging technology, your company can more effectively target and engage with customers, resulting in increased sales and customer loyalty.
Related Article: Using Technology for Marketing Your Business
B2B vs B2C
As previously noted, B2B is different than B2C. B2B provides products or services to another business whereas B2C provides services or products to individual consumers. Here are a few examples:
B2B:
A digital marketing agency creating and managing a local business's marketing campaign (like Mero Annex Interactive!)
Poppin – Sells office supplies to businesses.
B2C:
A national department store, like Macy's, that sells to the masses.
A local pizza shop that serves a neighborhood.
A B2B customer – a business – looks to identify a need; explore various solutions, do research, list solutions, then selects a company to buy its service or product.
A B2C customer looks for value and quality and typically wants a quick solution to their problems or need. compared to B2B, the buying cycle for B2C is much shorter.
Metro Annex Interactive is Your B2B Marketing Strategy Specialist
No matter what B2B business goals you're looking to achieve, our experts are here to help.
For years, Metro Annex Interactive has been helping B2B brands stand out from the competition with carefully curated and custom digital marketing campaigns that maximize their visibility and drive conversions.
We Do It All
From developing efficient customer acquisition tactics to honing branding and messaging, our experienced marketing team has the knowledge and expertise necessary to get your B2B company where it needs to be.
Related Article: Traditional Marketing or Digital Marketing or Both?
Customized Marketing
We understand the unique challenges B2B companies face when it comes to successful marketing, so we take a tailored approach for each client to develop creative solutions that make an impact.
Get ahead of your competition with Metro Annex Interactive's B2B marketing today!
Some materials from Hubspot, MarketingEvolution, and Investopedia were used in this article.
Mathew Phillips Digital Marketing Specialist
Mathew Phillips is an expert in digital marketing and lead generation services. Mathew has a passion for all things digital marketing from website design and search engine optimization to digital advertising, email marketing and social media.