Metro Insider
Digital Marketing Blog by the Metro Marketeers
Should Your Business Be Using Sales Enablement?
Sales enablement is critical to your business sales strategy.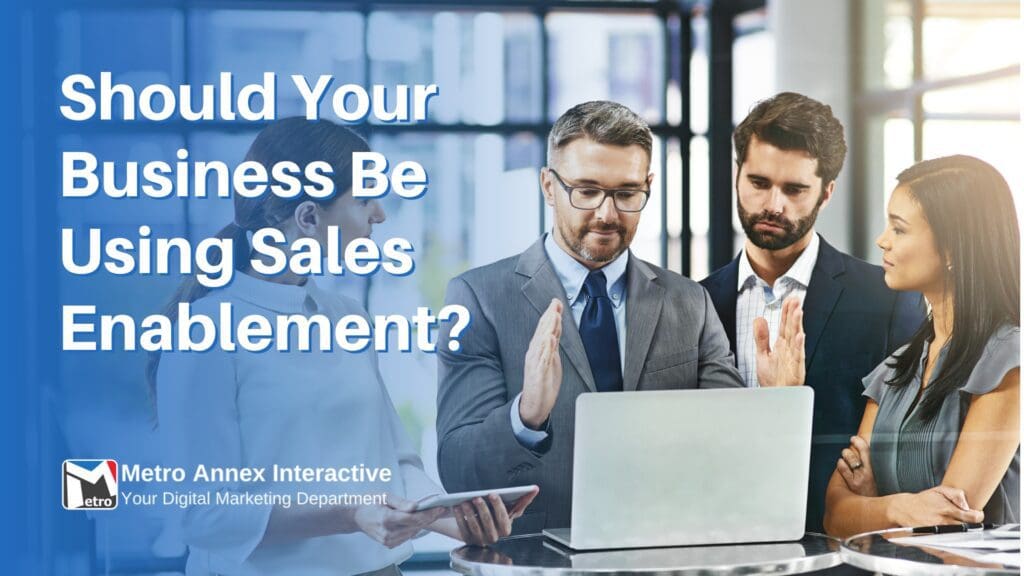 In this digital business era, the rules have changed regarding how you sell your products or services and how consumers purchase them. Implementing a strategy known as sales enablement can empower your team to target the right buyers at the right time as they go through their journey from a prospect to a customer. So, should your business be using sales enablement? The answer is: definitely.
What is Sales Enablement?
Today's buyers are the most informed consumers – often knowing more than the seller. Because of this, your business must have the right process in place to draw potential customers and boost your revenue.
Sales enablement is critical to sales strategy, helping marketing and sales teams stay on top of the ever-evolving sales landscape. By providing both marketing and sales teams with the resources, training, and data analysis they need to maximize sales performance, sales enablement can help your business attract more buyers, increase productivity, and close more deals.
Why is Sales Enablement Important?
With the right sales enablement solutions, your team can identify trends in customer behaviors, focus their attention on key customers and prospects, analyze sales pipelines more effectively, and make better decisions in the sales process. By leveraging strategies and technologies, businesses can significantly improve their sales results.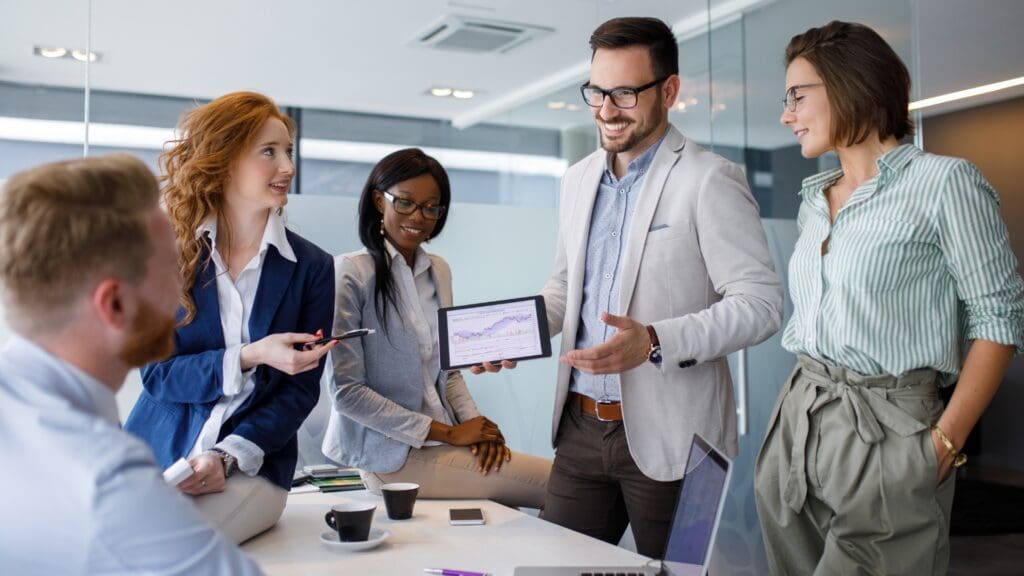 A sales enablement initiative also helps save time and resources by streamlining sales operations. Automating sales activities such as data entry, document sharing, or tracking customer interactions can make your sales team more efficient and help them quickly identify opportunities they may have otherwise missed.
Ultimately, knowledge-based sales interactions will increase sales productivity and drive long-term growth. With the right sales enablement platforms in place, businesses can maximize sales potential and improve customer satisfaction.
The Customer Journey and Sales Enablement
One of the main reasons your business should use sales enablement is to help your sales reps follow your customer's journey from prospect to buyer. Sales enablement focuses on every step of the sales funnel journey.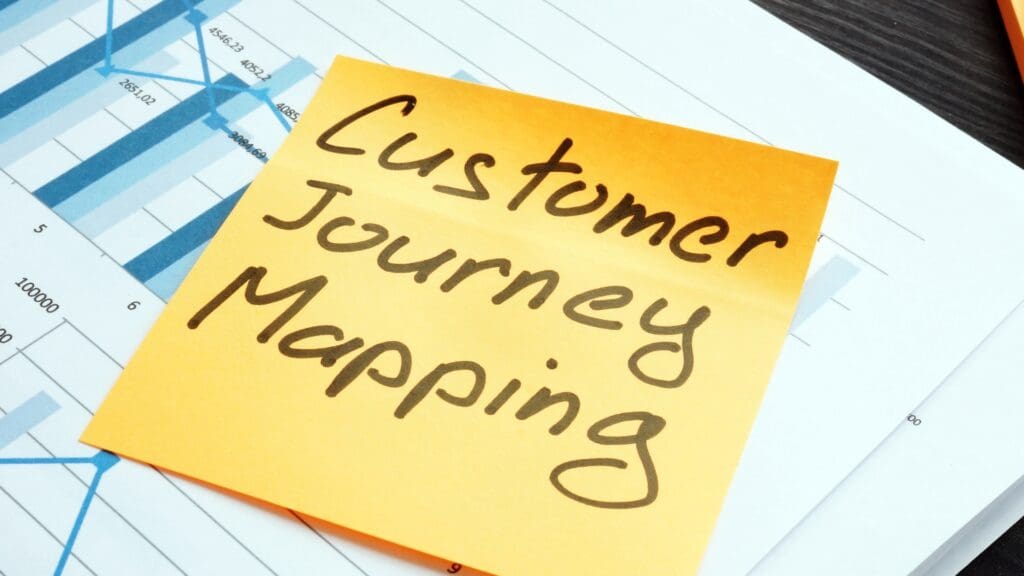 The buyer's journey is a critical part of the sales cycle. By understanding this, your sales managers can tailor strategies to meet customers' needs and provide them with the best sales experience possible. It's all about having your sales and marketing team be able to engage buyers at various points during that journey all the way to being a customer. Your sales and marketing teams own sales enablement.
The customer journey is:
1. Awareness/Interest – This first phase is when prospects realize a need for a product or service. They start their research to identify their problem or what they need and seek a business for a solution.
2. Consideration – This next step is when a potential customer will evaluate all available options and review businesses that can address their needs. If your company's marketing efforts are effective, they will check out your business and compare it with competitors.
3. Purchase – Prospects now have a shortlist of potential businesses. After careful consideration, they will ultimately make their final choice.
Knowing the customer's journey will let your sales leaders step in at the right time with the right materials to convert leads into paying customers.
What are the Sales Enablement Resources?
Aligning sales and marketing teams is a key feature of sales enablement. Here are some of the resources you need:
Content – Blogs, videos, case studies, webinars, and product/service guides are examples of the content your sales team can use to provide information to potential customers to help them make an informed purchase. With these, you can send leads the right materials to answer their questions or provide pertinent information. With the right materials, tools, and resources, your staff will be able to convert leads, close more deals and drive revenue for your business.
Sales Enablement Technology – CRMs (Customer Relationship Management) is a sales enablement tool that can manage all of your content and track every aspect of a prospect's journey all in one place. This helps determine qualified leads so they can be better targeted. CRMs can also separate prospects for follow-up marketing. Sales enablement analytics can provide the right data to drive your process. Utilizing sales enablement software optimizes your entire sales cycle.
Sales Training – Ongoing sales training and coaching of your teams is a must to keep them apprised of newly available technologies for sales enablement and to keep them involved in the process. Your sales enablement team must know about the buyer's needs and when and how to engage them at any given point of their journey.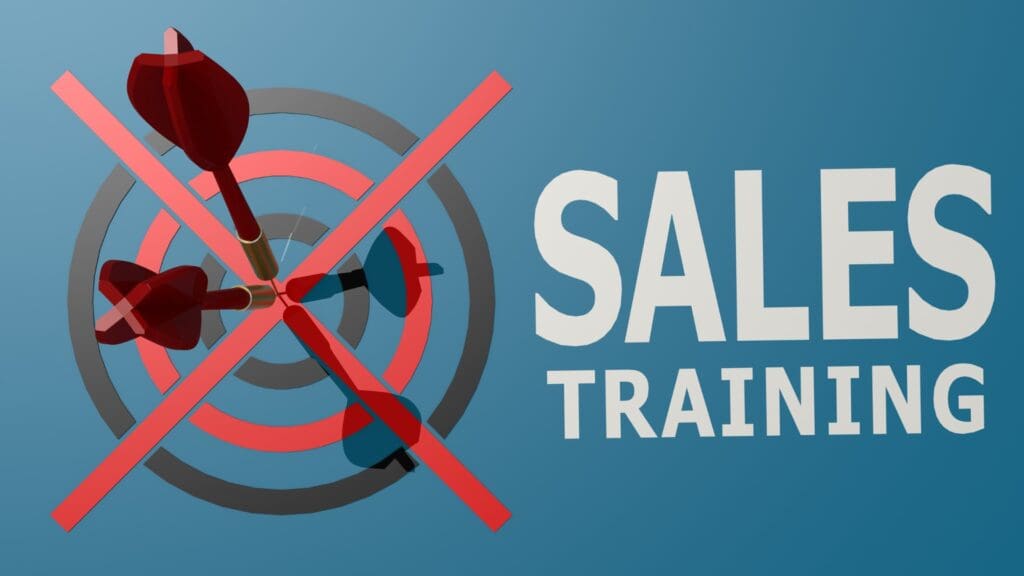 Equipping sales teams with the right resources will help work leads and boost conversions. A sales enablement platform can help your sales rep identify key touchpoints in the customer journey so that they know when and where to intervene and offer solutions or support. Additionally, these tools track customer journeys so you can better understand sales results and optimize your sales operations. The best sales enablement programs ensure success for your business.
How Will Sales Enablement Benefit My Business?
Providing your sales team with greater insights into their sales results will help them better understand what is working and where they may need to make adjustments to boost conversions. A sales enablement framework benefits include:
1. Greater sales insights – This provides you with access to the needed data to make informed decisions and maximize sales achievement.
2. Improved sales process efficiency – Streamline sales processes by automating activities like data entry and document sharing.
3. Increased sales results– Helps identify sales opportunities more quickly and drive better sales results.
4. Maximized sales potential – Having a sales enablement game plan will provide your business with the resources to maximize sales performance.
5. Improved customer satisfaction – By leveraging sales enablement tools, you can provide your customers with a better sales experience.
6. More efficient sales teams – Your sales reps will work more efficiently by providing them with the data and resources they need to sell effectively.
7. Easier sales tracking – Utilizing sales enablement software helps businesses track key performance indicators (KPIs) so they can better understand sales results. Measure success with tracking tools.
8. Greater sales success – By providing sales teams with the resources and sales training they need to maximize sales results, sales enablement strategies can help businesses close more deals and drive long-term growth.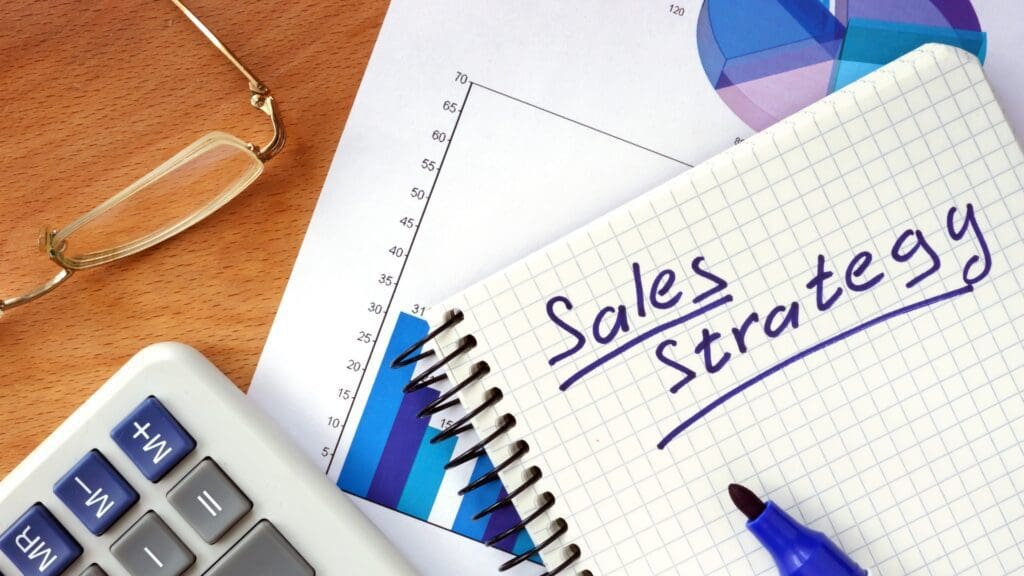 Having sales enablement initiatives will help your staff identify sales opportunities more quickly and improve sales process efficiency, thus driving sales results. With this sales enablement process in place, you can focus on the activities that drive results, while having access to the data needed to make informed decisions. By leveraging tools and resources, businesses can maximize their sales potential and increase customer satisfaction.
In short, sales enablement is a powerful sales tool that can help businesses improve the bottom line while saving time and resources. A winning sales enablement strategy clearly defines goals, puts processes in place, and helps with both sales and marketing alignment.
When Did Sales Enablement Get Its Start?
While sales enablement has become a hot topic in recent years, it has been around since 1999. According to Bigtincan, the strategy was born when former Miller Brewing Company brand manager John Aiello, and Drew Larsen, a telecom consultant, developed a new approach to sales operations and management. They set out to remedy decades-long problems sellers endured such as inconsistent brand messaging between sales and marketing, lack of accurate product and customer information, and inconsistent sales processes.
During the 2010s, sales enablement interest took off after consultants and sales trainers made gradual progress in getting companies to adopt the process. Software technologies were developed to gather all the necessary data generated by buyers and sellers so that analysts could improve businesses' interactions with prospects and leads.
In 2013, the Sales Enablement Society was established, signifying sales enablement's status as an official profession. A recent study by CSO Insights found that 60% of sales organizations have dedicated staff for sales enablement.
Getting the Whole Team Involved
As explained, sales enablement is a whole team strategy. Everyone in your company must be involved in the sales process. And that process must involve some out-of-the-box thinking. Here is an example:
We at Metro Annex Interactive recently did an out-of-the-box shock 'n' awe marketing effort: The Secret Sauce Campaign. We gift-boxed a bottle of hot sauce and mailed it to leads. The idea was to show our creative marketing techniques.
Your business can do the same. Get your team around the table helping to "box" your marketing and sales ideas and don't be afraid to try something off the wall.
Let Us Set Up Your Sales Enablement Program
Sales enablement can help you stay ahead of the competition, increase performance, improve brand reputation, and align sales and marketing teams. With a proper sales enablement strategy in place, your business will have the edge it needs to succeed.
With our help, your sales team will be better prepared to close deals and make sales faster than ever before. So let us set up your sales enablement program today and get ready to reap the rewards. It's something every sales organization needs.
We are Your Marketing Department
As a leading digital marketing agency, we can take on all of your marketing – from building a website to serving as your marketing hub, content development, social posts, and marketing management. We do it all so you can concentrate on running your business. Let us be your marketing department!
Research Sources: BigTinCan, SalesForce, HubSpot, and LinkedIn
Mathew Phillips
Digital Marketing Specialist
Mathew Phillips is an expert in digital marketing and lead generation services. Mathew has a passion for all things digital marketing from website design and search engine optimization to digital advertising, email marketing and social media.