Metro Insider
Digital Marketing Blog by the Metro Marketeers
How to Optimize Your Google Business Profile
If you're running a business in the digital age, having a Google Business Profile is a must.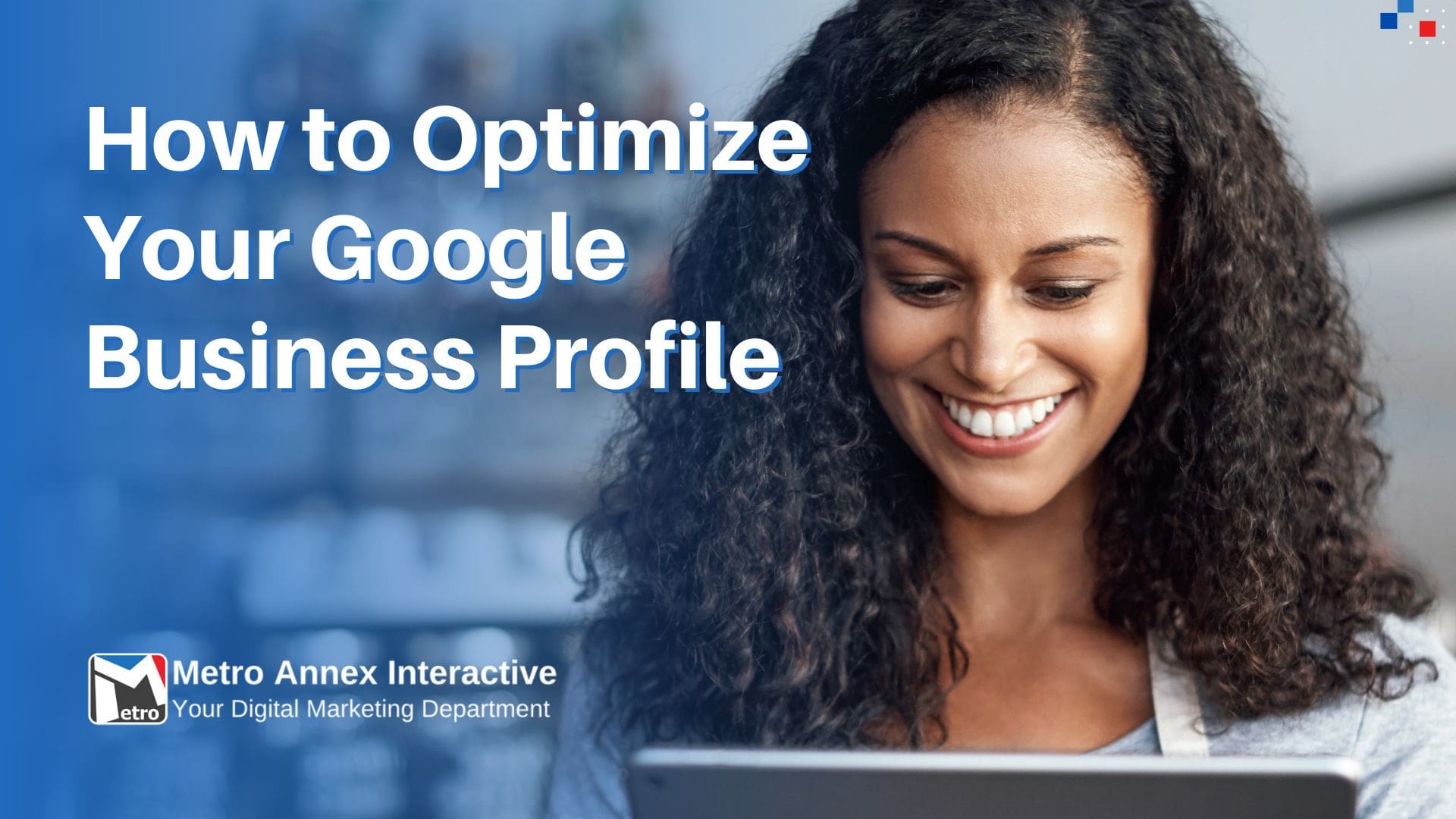 If you're running a business in the digital age, having a Google Business Profile is a must. It's an essential way to attract new customers to your business through Google Search and Google Maps. Not only does it make your company more visible in online searches, but it also gives prospective customers valuable information about your business. We're going to show you how to optimize your Google Business Profile to market your business.
What is a Google Business Profile?
Google Business Profile, formerly known as Google My Business, is a free business listing offered by Google. It allows you to provide details about your business information: photos of your business, including your location details, services/products offered, website link, operating hours, contact information, and customer reviews.
As a local business owner, this business account allows you to manage your business's information. If you change your operating hours, or offer some new product or service, you can update your listing as needed. The business profile will help boost your local SEO (Search Engine Optimization) rankings over third-party listings services that may have out-of-date information.
You also have access to valuable insights about your business, such as how many people have visited your website or physical location, and how they found you. This can help you better understand your customers and tailor your products or services accordingly.
Potential customers will have easier access to information about your company which could ultimately result in more leads and conversions for you. Verified businesses on Google are twice as likely to be considered reputable.
The listing is offered only to businesses that have a physical location like a brick-and-mortar store, or service companies like electricians or plumbers that meet with customers in designated areas. Online only businesses, such as e-commerce or those with an online-only presence with no physical address are not eligible for a business profile.
Why Do I Need A Google Business Profile?
Since 92% of searches are made on Google, it only makes sense to have your business profile on the world's go-to search engine. The goal is to tell searchers who you are, what you do, and where you are.
Also, consumers are now preferring local businesses over big-name brands. Searches for local companies have dramatically increased in recent years. According to Google, more than two-thirds of U.S. consumers feel it is important to support local businesses and they are doing their due diligence researching companies online before dealing with them.
By default, Google will display local businesses even if the searcher doesn't include a specific location. This is great news for local small businesses.
With a Google Business Profile, you can:
Boost your local marketing efforts and local SEO; crucial to get on that first search results page
Maintain accurate information about your business online

Tell Google your business hours, website, phone number, holiday hours, and business address (a street address, service area, or place marker)
Use Maps and Search to stay up-to-date with your online presence wherever you are

Interact with customers

Add photos of your business and your products and services
Collect and respond to positive or negative reviews from customers to gauge your online reputation and gain credibility

Book appointments
Attract new customers

Improve how your business appears online so new customers can find you
Point customers to your website
See how customers find and engage with your business
Gain insights into customer behavior to make decisions on growing your business
You can easily control the information people see when they search for your business online. This way, potential customers will have access to all the important details about your company and be more likely to become loyal customers.
It's not just about a Google business listing; a Google business account profile gives you the opportunity to interact with customers, engage prospects, add photos of your business and products, collect reviews from customers, attract new customers, and gain valuable insights into consumer behavior.
How to Create Your Google Business Profile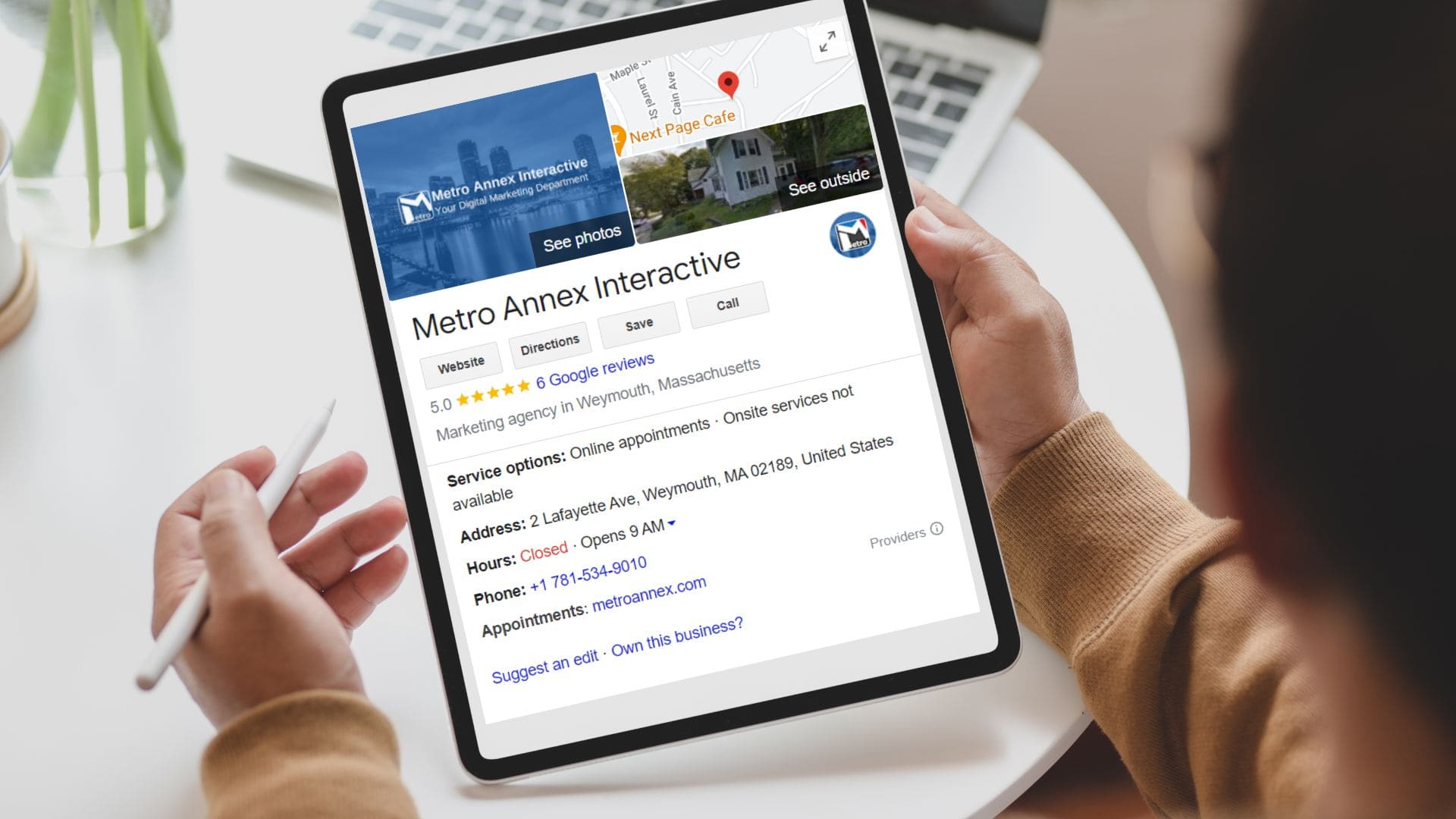 Creating a Google Business Profile business account from scratch is easy. Here's what to do:
Go to Google Maps and open the menu in the top left corner. Click on the "Add your business" button.
A "Create account" window appears. Click on "To manage my business" in the dropdown menu.
Fill out the form with your name, choose a username and password, then click 'Next."
You will be prompted to verify your identity with a phone number. Google will send a code through a text to your phone.
You will then receive a terms and conditions page. Click "Agree."
A profile page will appear where you can fill out your business info – business name, category, etc.
The next step is to add your location and your business's physical address. Make sure it is accurate since it will appear on Google Maps results.
You will have the option to provide a service area if you are providing services to homes or businesses.
Next, you need to add your contact information – website address, business phone number, business hours, etc.
After that info is completed, you will next be asked to opt-in to receive updates and recommendations from Google.
The final step is to verify your profile. You have five options:
Phone – You'll receive a Google automated call or text with your verification code.
Email – You will receive an email containing your verification code.
Postcard – You will receive a postcard at your registered address containing your verification code.
Video – Record a video that shows proof of location, your business equipment, and that you are indeed an authorized manager of the business.
Live video call – Show the same proof for the video recording but on a live call with a support representative.
You can also use other techniques like SEO and online marketing to improve how your business appears online.
Tips on Creating Your Profile
With so many companies using Google Business Profiles today, making sure yours stands out from the crowd is key. You'll want to add engaging images of your staff, product, or service and showcase any positive customer reviews that you've received.
When people search for businesses like yours on Google Maps or Google Search they'll be able to quickly find what they need with clear and concise information.
Here are some simple steps on how to create your profile:
1. Create an account on Google Business Profile
2. Enter basic information about your business such as name, address, and phone number
3. Add engaging images of products or relevant services you offer
4. Encourage customers to leave reviews that showcase why people should choose your business
5. Publish and manage your profile whenever you need to make changes
6. Access valuable insights about customers who have visited your website or store location
7. Determine your service area
8. Add your business website URL
With these simple steps, you'll be ready to show the world what makes your business unique.
How to Optimize Your Google Business Profile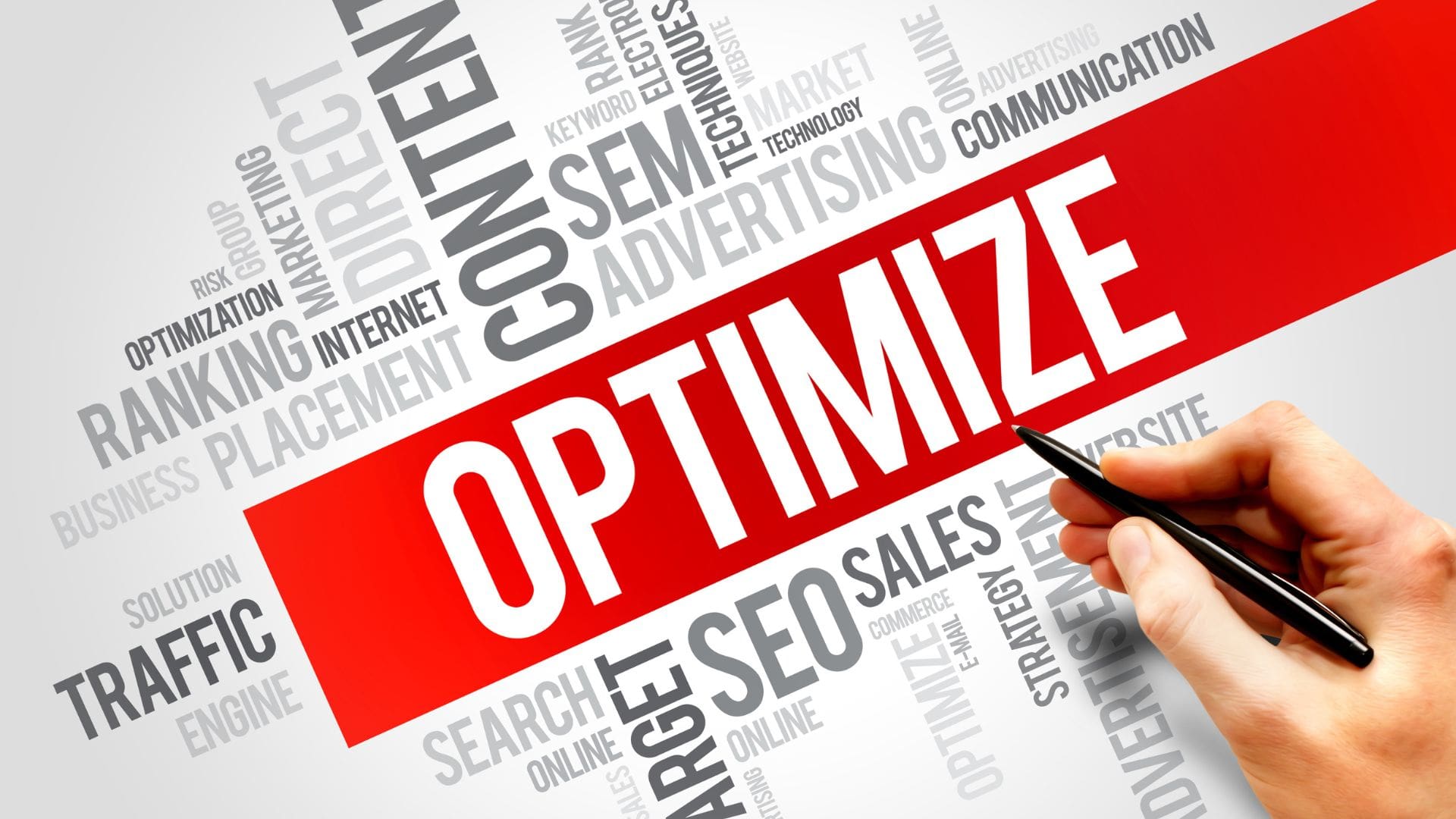 Google determines local search ranking based on three factors:
Relevance: How well does your Google Business Profile listing match a Google Search
Distance: How far your location is from the search or searcher
Prominence: How well-known your business is (based on factors like links, number of online reviews, review score, and SEO)
To rank high in search results, you need your Google Business Profile to be accurate and complete. Maximize your ranking by:
Accurately complete all parts of your profile – Accurate and complete information improves your relevance score and makes for an easier match with searches. Customers are nearly 3x more likely to consider your business reputable and 70% more likely to visit your location if your profile is complete. Don't forget to update any change in operating hours or product/service offerings.
Verifying your location – Verified business locations are more likely to show up in Google Search and Maps and improve your geographical distance score. Once it's verified, you can create posts, upload photos, and respond to customer reviews. If you have multiple locations, make sure they are listed and are correct.
Adding images and videos – Include your logo and profile picture. Add images and videos to showcase your business and post regularly. For example, if you run a restaurant, use pictures of your dinner offerings, menus, and dining area. If you sell products, include pictures of these. If you're a service company, use pictures of your employees at work doing what they do best. Make sure the photos are high-resolution and appealing. You can also use short videos explaining what your business is all about. By the way, Google reports that businesses with photos on their website receive 35% more clicks and 42% more driving requests than websites with no photos.
Using relevant keywords – The right keywords will boost your relevance. Keyword Planner and Google Trends can help you find the correct keywords to use. Incorporate them naturally in your business description. They shouldn't be just haphazardly thrown in – this decreases your ranking.
Encouraging Google Reviews – Prospects trust customer reviews. A good review can be the tipping point for a prospective customer to become a paying customer. Google reviews are also a good way for you to engage with customers – if it's positive feedback, respond with an appreciative remark. For a bad review, offer to resolve it. Google reviews also boost your search results.
Keeping your profile updated – If your hours change, you move, add or discontinue a service or product, these need to be updated on your profile. Your information must be correct and up-to-date to not only keep up your ranking but to keep your customers in the know. Incorrect information on your profile negatively affects your ranking and could also impact other online business directories.
Creating a Google Business Profile is the first step to connecting with potential customers and showing them what makes your business unique. It's free, easy, and only takes a few minutes. With this valuable resource, you can engage more potential customers, gain access to important insights about your business and showcase what makes your company unique.
Claiming and Verifying Your Existing Google Business Profile
Did you know that most businesses have an existing business profile but don't claim or verify their Google Business Profile? Only 44% of businesses with a profile claim it.
So, before you start creating one, check to see if it already exists. Here's how:
In the Google Search bar, type in your business name and address.
If your business comes up, scroll down to the Google knowledge panel and click on where it says "Own this business?"
A "Manage this business" screen will appear.
Then verify that it is your business. This claims your profile.
You can also claim and verify your profile through Google Maps:
Open Google Maps and enter your business's name in the Google Search bar.
Click the "Own this business?" button.
A "Manage Now" screen appears.
Options will appear for you to claim that it's your business.
In some cases when business owners have searched to claim their profile, they have found it already has been claimed. This may have been done by an employee or, if you recently bought the business, the previous owner.
You can request ownership from the current profile owner. A form will appear for you to fill out.
Once submitted, Google will send that person a notice who has three days to respond. If they don't, you will have the option to request ownership. If your request is denied you can appeal to Google.
How Your Business Appears in Search Results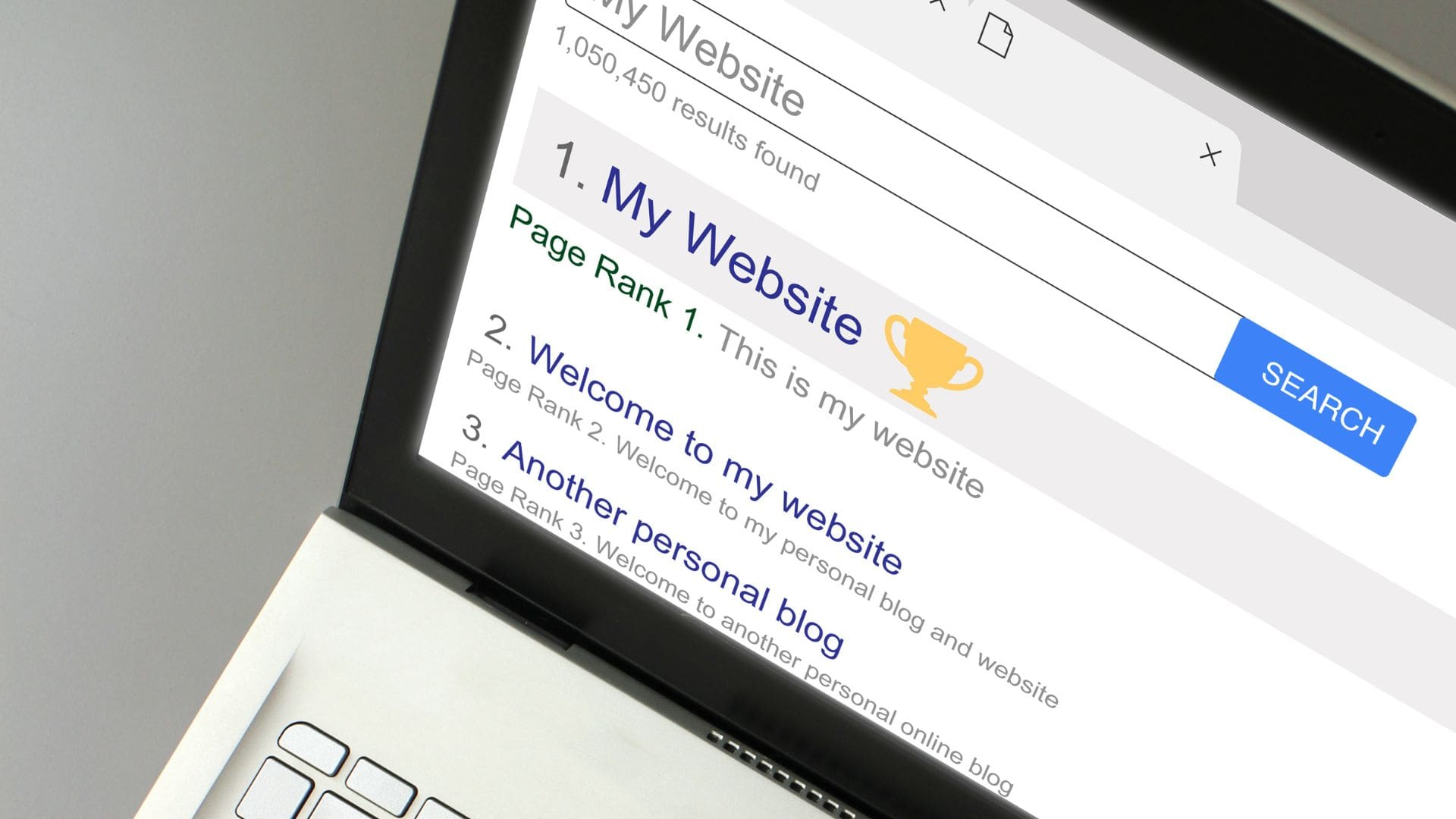 In recent years, consumers search "where to buy" or "near me" for a product or service instead of a particular company or brand. Known as discovery searches, this type of usage has increased by 200% in the past few years.
For example, someone may search for "restaurants near me." If the person is near the location of your restaurant, your eatery will likely come up on the search page.
Near the top of this page is a list of restaurants that includes a map showing the geolocations of the restaurants. This is called the "local pack" or "map pack," based on location-specific queries.
If your profile is properly optimized, your business will be among the top listed on the search result page. This greatly increases your chances of being clicked on and visited. But if your business profile is not optimized, there's a chance it won't appear at all on the search page.
By optimizing your Google Business Profile, you can make sure that customers find you quickly and easily, while also showcasing what makes your business unique.
The goal is to get your business on the first search results page. Consumers typically choose businesses on that first page.
Keep Your Google Business Profile Updated and Optimized
Did you know that a user or Google can amend your profile? Most don't. That's why it is imperative you periodically check to see if everything is up-to-date. Inaccurate information can hurt your rankings and also discourage potential customers frustrated by wrong information.
Having an accurate profile will get:
70% more visits
7x more clicks
50% more purchases
3x a better reputation
Creating and managing your profile can be the key to getting more leads and encouraging customers to visit your physical location or website.
It's important to keep your profile updated and accurate since this is the first thing potential customers will see when they search for your business. To make sure you are providing the most informative content possible, stay up-to-date with all of Google's updates and recommendations.
Metro Annex Interactive is Your Marketing Department
Overwhelmed by the idea of creating a Google Business Profile? Keeping it updated? How to use keywords to optimize your business to be found in searches? That's where we come in.
Let Metro Annex Interactive be your digital marketing department. We do it all. From website design to creating relative content and social media campaigns, our expert staff will put our proven data-driven marketing resources to work for you. We will create a custom marketing plan for your business and budget.
Contact us today for a free consultation.
Information from SearchEngineJournal, WordStream, BirdEye, Hootsuite and Google was used in this article.
Mathew Phillips Digital Marketing Specialist
Mathew Phillips is an expert in digital marketing and lead generation services. Mathew has a passion for all things digital marketing from website design and search engine optimization to digital advertising, email marketing and social media.